Yes! Midterms over for now and Reading Week is upon us (at least for me in Edmonton). Most people I know are going to Mexico or Vancouver or somewhere that isn't -20 degrees. Lucky them. I've been listening to some wikkid stuff and haven't had time until now to share. So, I decided to make a mixtape. Woohoo!
Before I start with the tracklist, I was listening to the Lonely Island's Incredibad release which Kevin recently posted about. It's not a bad comedy release. Some of the stuff on there is pretty funny. One song I keep revisiting is "I'm on a Boat" featuring T-Pain. I can't help it. I don't want to listen to T-Pain more than I already do but this song is REALLY GOOD. If this was an "actual" rap song with T-Pain, and maybe featured like Yeezy, T.I., and Lil' Wayne it would totally be a hit. I'm convinced. Just picture a "Swagga Like Us" remix version of "I'm on the Boat". 52nd Annual Grammys performance?! I'm calling it.
Another song I keep looping on Incredibad is this INSANE rap that Natalie Portman does. I am severely scuuuurrrred of Natalie now. As Andy Samberg puts it, "my dick is scared of you". My dick is scared of Natalie Portman. My favorite part is the response to when Parnell asks, "Natalie, one final question, if you could steal a smooch from any guy in Hollywood…" I lose it every time. Hilarious.
The Lonely Island ft. Natalie Portman & Chris Parnell – Natalie's Rap (NSFW)
Don't be fooled by Natalie's good looks and cute smile! She is a bad ass bitch. Anyways, enjoy your long weekend! Hopefully this mixtape will jump start things.
Click here to download "It's Not You, It's Me"
Playlist:
01 | The Blow – True Affection
02 |  Oasis – Married With Children
So this my super late response to Kevin's post a while back. I don't have much to "defend" really as I agree with all your points. Oasis don't have much variety, they haven't branched into side projects (as far as I'm aware), they don't have the best of attitudes (although it's much improved now with wives and babies in the picture), and yeah, they don't have a camel for a mascot, which would be really cool.
Thing is, I grew up on Oasis. I remember the exact time and place when I first heard "Live Forever". How I was driving by in my 'rents maroon Oldsmobile past 97st while "Wonderwall" was blasting. How I was at my g-parents house playing "Speed" when I saw the premier video for "Champagne Supernova" on Much Music (which used to be good but now is probably the worst music channel with the exception of The Wedge) while dinner was being made. Every experience I've had with Oasis from age 8 onwards is still vivid in my mind. The tastes, the smells, and the emotions evoked are still there. With songs like "Talk Tonight," "Slide Away," "She's Electric," "Stay Young," "The Masterplan," "Live Forever", and I could go on and on and on, Oasis just can't be beat. Listening to their albums still blow my mind, lyrically and production-wise. Blur doesn't do this to me. Oasis really are the greatest (alt) rock band ever.
Yeah they don't have an "evolved" sound. But is that such a bad thing? Their releases sans Lyla/DGYS are consistent with the Oasis sound. Though they are not as lyrically or vocally provoking compared to their former releases, they still sound great! And by the time I got into Blur, which was about '97 when "Song 2" came out, I was already devoted to Oasis with the help of Napster (oooo the days of Napster) which got me every single Oasis song imaginable.
Blur is amazing. I love Blur. But, I just love Oasis more. It's just one of those things. But does it really matter if we both love Blur? Gauntlet or no gauntlet, I'll will have moved to the East by the time Blur do a tour. Let's rock out together.
03 | Valérie Leulliot – Mon Homme Blessé

Leulliot is a former member of the French indie band Autour de Lucie. I've never heard of them before but they are definitely on my to listen list after hearing Leulliot's solo debut Caldeira (2007). Caldeira was recorded in just one room with her piano, banjo, percussion, acoustic guitars, and computer. This cozy setting along with her delicate vocals create a beautifully intimate, and melancholic atmosphere.
04 | Soko – I'll Kill Her
Soko aka Stéphanie Sokolinksi was born in Bordeaux, France. She only has one release so far Not Sokute EP (2007) which only has five songs including this one. It's so stripped down that all you really notice is her voice which is what I love the most. Her French accent is just wonderful, delicate and exposed, unhidden like most foreign accents tend to be, showing the true nature behind her character. Her lyrics are un-regrettably honest and unapologetically blunt. Think Chad van Gaalen, Jens Lekman, or Owen Pallett. Lyrics like a diary, thoughts in their purest form.  "I'll Kill Her" from this EP is pretty much the song that got her famous.
She's been working on an album for the greater part of 2008 and according to her website, her first LP should be released sometime this February! But, I was checking out her myspace recently, and it seems as though she's given up…? With a headline saying SOKO IS DEAD, "I QUIT", the location being "HELL, FRANCE", and chosen songs to preview being "YOU have a power on me" and "I'm scared I'm gonna die alone"…I'm thinking the LP released is probably going to be postponed. Not Sokute is very full of emotional songs, opening up a window into her life which at many points seemed very tragic, depressed, and unforgiving…so maybe she's relapsed into that phase or never left it. Who knows? In any case, I hope she makes it out alive 'cause her music is amazing.
I'm gonna come right out and say it. I love Jenn Grant. My obsession with this woman has gone too far but I can't help myself. I love her.
Jenn Grant was born in PEI but later moved to and currently resides in Halifax, Nova Scotia. Her first LP Orchestra for the Moon exposed her wonderful and most magnificent voice to the world. Her enchanting melodies and vocals continue to be showcased in her recent release Echoes.

I've been listening to this LP non-stop for almost a week now and the entire time I was trying to think of who she reminded me of. I couldn't quite put my finger on it but decided that her sound is a mixture of Sarah Slean's quirkiness and piano drops, Norah Jone's sultriness, the folk that is Regina Spektor and Sinead O'Connor's ability to make your heart melt with one stroke of her chords.
Echoes is absolutely brilliant. I swear if she stripped all the violin, the piano, the drums, the guitar, the bass, and all the instruments in between away and left just her voice on her tracks, every one would still touch your soul to it's deepest core, rendering it completely vulnerable to the pains Grant exposes in her emotionally entrenching lyrics.
06 | Rufus Wainwright – Between My Legs
I can say without a doubt that seeing this man live was one of the best performances I've ever attended. His crazy showmanship and costume changes are ridiculously entertaining and his demeanor throughout is just simply lovable. His performing at one of the best acoustic venues in Edmonton has to offer also helped. With that being said, I also can say without a doubt that "Between My Legs" is one of the greatest songs of the decade. A huge statement, I know. But I believe it.
07 | Alan Braxe – In Love With You
Classic. He recently released the Nightwatchers EP. Solid.
08 | Gui Boratto – No Turning Back

Nearly every mixtape I've made thus far as a Boratto track. I can't help it. This man is just amazing. Boratto recently released a new album this year, Take My Breath Away with Kompakt, one of my favorite minimal house labels home to the likes of Andr Kraml, Justus Kohncke, Supermayer (Micheal Mayer), the Field, THE ORB, and boatloads more. Similar to his first debut album, Chromophobia in 2007, Boratto makes minimal house feel quite the opposite. The production on both LPs are fantastic, the beats, rhythms and hooks.  The production strips away the complexities yet churns out a seemingly multifaceted composition. There are no minute subtleties, it's all laid out on the table. But that's the whole point of minimal. Less ends up being more.  Thing with Boratto is, is he doesn't keep you in the dark the whole time like the Knife, Fever Ray, or Burial would. His minimal sound underlies each song but comes out feeling light-hearted, hopeful, catchy, and danceable. It's a sound you keep coming back to for any ocassion because his music takes a variety of forms. There are no surprises on this LP, Boratto sticks with what he knows best. And I wouldn't have it any other way.
09 | Modeselektor – Let Your Love Grow
10 |  Pati Yang – Too Late

I grew up on the ashes of communism, as the iron curtain was falling down, we, the kids all just stood there trying to make sense out of it. Every day in the past two decades was absolutely incredible. Nothing was certain. Everything had to be redefined – from law, censorship, access to information, music and films, to the basic human relations – it takes people time to learn not be sickly suspicious of one another, get rid of the paranoia. Music is like having bath, when you open your eyes underwater you can hear nothing but your own breathing. Reminds me that I am still alive.
The last few sentences definitely resonate with me. And the entire thing can be read at her myspace page. Pati Yang is a Polish singer. Probably one of few Polish singers that have released such any trip-hop material.  Her first release Jaszczurka (1998) is IMO one of the greatest trip-hop records ever, comparable to the status of Tricky's Maxinquaye (1995) or Portishead's discography. In 2005 she released Silent Treatment. In late March she'll be releasing an album Faith, Hope+Fury. I'm super stoked. She also has a side project called Flykkiller. I haven't heard any of their material but if Yang is involved it must be good. From what I've read, Flykiller fuses more rock into their electronic, trip-hop, pop sound.
11 | SALEM – Skullcrush

Salem consist of one girl and two guys from Chicago/Michigan/NY. Not much is really known about these guys except their music is dark as hell. "Skullcrush" is probably their "lightest" song from their only releases Water EP, FuCKt EP, and Yes I Smoke Crack EP all from 2008. Imagine a fusion of The Knife and Burial except more…evil. How is that possible? It is. Dubstep so cold that your body water doesn't seem so stable anymore, chilling your bones into tiny icicle droplets like being in outer space. On Pluto. And all you can see is the one red eye everywhere you turn while gasping for air. Their EP covers and artwork are effin' scary. Regardless, their music is genius.
12 | Yuksek – Extraball

Yuksek is an up and coming French electro-house producer. He released his first LP this year Away From the Sea and it is wikkid. It sounds a like a fusion of obvious French influences such as TEPR, Kavinsky, and DJ Mehdi. Need I say more?
13 | Lil' Wayne – A Milli
I'm going to put Weezy song in every single of my mixtapes 'cause I can't get enough of TCIII. And I'm holding on to TCIII for as long as possible before he makes his "rock" album that's to be released this year. From what I've already heard…not that impressed. But who knows, maybe he'll surprise us in the end.
14 | Jay-Z – I Know
15 | Madcon – Pride and Prejudice
16 | Royskopp – Happy Up Here (Boys Noise Remix)

Instructions for easy clean-up:
Go to your garage. Grab your helmet. Put it on. Press play.
*head explodes*
Seriously, I want this Junior album now. The Happy Up Here EP is pretty solid. It has remixes from Boys Noize, Breakbot, and a few others. The best one is the Boys Noise remix.
17 | Lykki Li – Little Bit (Death to the Throne Remix)

Death to the Throne. Does anyone have more info on this guy? From what I've heard on his myspace and the few peripheral songs I've been able to find, this guy is gonna be BIG in '09. Infectious beats, amaaaazing production especially on this Lykke track. Hard hitting electro soundwaves coming from nowhere. He also produced the new M.I.A. song which is much more electro than most M.I.A. songs but it's still pretty rad.
P.S. Yay for M.I.A.'S baby boy!
18 | MSTRKRFT ft. John Legend – Heartbreaker
So unimpressed with the new Fist of God LP. I had pretty low expectations and even LOWER expectations when I saw how shitty the album artwork is. Yeah their previous LP had lots of cameos from cool peeps just as this one does, with appearances by N.O.R.E., Freeway, John Legend, and Ghostface kakakaka Killah. But man their sound just gets so old. It's essentially "1000 Cigarettes" times 11 tracks…minus "Heartbreaker" which I really like maybe because of John Legend and maybe because it is the least MSTRKRFTY sounding track on FOG. To be honest, I've never really liked MSTRKRFT LPs. I only like their remixes 'cause it seems as though when they have something to work with rather than nitpicking from scratch, they make better music. Exact variables, exact forumlas, exact outcome. Srsly unoriginal. Having no change isn't bad sometimes, but when it's not that great to begin with, it is. It's a good thing their live shows are good.
19 | The Juan Maclean – One Day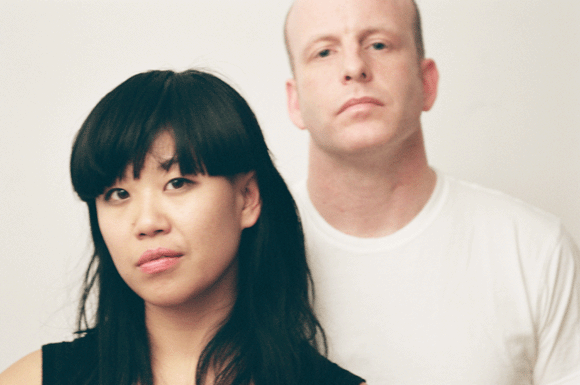 Featured on the above photo are John Maclean and Nancy Whang, the lyrical masterminds behind The Juan Maclean's soon to be released The Future Will Come. Finally. I have been waiting and waiting for what seems like an excruciating time in between his first release Less Than Human. Back in 2005. WOW four years. So it wasn't all in my mind. It really was a long painful aching wait. Ho ho ho, the wait was worth it friends. The wait was worth it.
John Maclean was once the guitarist for the Sub Pop band Six Finger Satellite who mainly dabbled in the post punk synth pop kind of scene. James Murphy later joined the band as a sound engineer. Sadly, SFS had many problems and unmentionable issues and later disintegrated. During this time, Murphy and Maclean still kept in contact, and Murphy, founder of one of my favorite dance labels DFA Records (home to many artists who have shaped the genre: Hot Chip, Black Dice, Hercules and Love Affair, to name a few) and founder of LCD Soundsystem, urged Maclean to keep the beats coming.
And Maclean does exactly that. Maclean's impressive debut Less Than Human isan 8-bit, synthpop, electronic dance hybrid. It's pleasing to the ears and kept the shoulders bumping and feet shuffling. It's no different with Maclean's upcoming release The Future Will Come. Musical influences like Kraftwerk aka founder of electronic music (who isn't influenced by Kraftwerk?!), Juan Atkins aka founder of techno music, and of course, James Murphy, truly shape Maclean's sound into what he describes as being a "disco inflected Human League sounding record". Plus, Nancy Whang's (LCD Soundsystem vocalist) duets with Maclean brighten up this record tenfold. Nancy's vibrant voice juxtaposed to Maclean's playful deep tones is wonderfully inviting and  pulls on the ear strings of the listener and you can't help but match your movements to the BPM.
"Happy House" is easily the best track on the album but "One Day" is a close second. I recently read a pretty rad interview with Maclean which you can read here!
20 | Women – Sag Harbor Bridge

Women are a group from Calgary! I can't think of any other group/artist that has come out of Calgary other than CvGaalen that has made this big of a jump into the music scene. Unsurprisingly, their self titled debut released last year was produced by CvGaalen himself but sounds nothing like with CVG creates. Women sounds like noise pop, experimental noise, shoegaze, and indie rock all rolled into one. I'm reminded of so many artists when I listen to Women. It was one of my faves of last year but I believe it was released late October on JagJaguwar (home to Bon Iver, Sunset Rubdown, Parts and Labor, etc etc GREATNESS!) so I predict this LP to be in the '09 lists for sure.

21 | Women – Black Rice

22 |  Metaform – Bubblegum

His recent LP, Standing on the Shoulder of Giants is magnifcent and reminds me of The Avalanches with a bit of Emancipator mixed in. The giants he refers to are his major influences which include DJ Shadow, Dilla and RJD2. You can definitely see his influences rubbing off on the 19 tracks because EVERYTHING is here. Jazz, nujazz, hip hop, rap, rock, electro, dance, pop, funk, lo-fi, downtempo, you name it and it is sampled on this LP. Nineteen tracks! No intros or outros or interludes. And not once did I find myself bored. The mixing is incredible and the transitions are flawless. Though he's standing on the shoulder of giants now, that's soon to change I'm sure.
23 | Empire of the Sun – Country
24 | Klaus&Kinski – El Cristo del Perdón

Their release of Tu hoguera está ardiendo (your bonfire is on fire) last year has been looping on my mediaplayer and show no signs of stopping. The Spanish band is led by Alex and Marina. Musically and lyrically, this album is full of emotions, soft dream pop vocals, and a style that ranges from 70s beats to electronic to shoegazing and pop. From start to finish Klaus&Kinski never fail to keep your attention despite drawing a light smoky haze around you as you melt into their songs.
25 | Phoenix – If I Ever Feel Better

Phoenix are a French indie rock band. Thomas Mars (vocals), Deck D'arcy (bass), Christian , Mazzalai (guitar), and Laurent Brancowitz (guitar) all grew up together in Versailles…also home and culture to Air and Daft Punk. Interestingly, Brancowitz left Bangalter and de Homem-Christo (who later formed Daft Punk) to permanently join Phoenix. Thomas Mars is also the husband to Sophia Coppola and helped with the vocals on the infamous track "Playground Love" by Air. With such a great background and fantastic influences like these, it's no wonder Phoenix is unremittingly successful in their soft indie pop sound.
I love Phoenix. It's interseting that they haven't broken out very far past Europe. After United, Alphabetical, and It's Never Been Like That it's hard to keep from wanting more. But alas! An album they've entitled Wolfgang Amadeus Phoenix is set to come out in May sometime. FINALLY! I've been waiting so long. Wow such an awesome name and with that comes pretty high expectations. I have no fear though. I've heard their "Twenty-One One Zero" song which is the newest track they've released a while back for the LOVE by Cartier campaign and it sounds great!
26  | The Whitest Boy Alive – Courage

Love Dreams. Love Rules. Love all their remixes. That is all.
27 | Junior Boys – Hazel

Junior Boys are a Canadian indie electronic pop band from Hamilton, Ontario consisting of Jeremy Greenspan and Matt Didemus. They've released Last Exit back in 2004 and the critically acclaimed, and IMO, one of the best Canadian albums of the decade, So This is Goodbye in 2006. And they've done it again with Begone Dull Care, which actually sounds more like Last Exit to me.
Begone Dull Care is inspired by the Scottish born Canadian animator and film director Norman McLaren. The LP itself is named after a short animated film McLaren made which won the Special Award in the Canadian Film Awards in 1950 along with many many subsequent awards.
McLaren was interested in Color-Music. He hand painted multi-hued abstractions onto film itself improvised with music in the background. In his short film "Begone Dull Care", hand painted patterns are superimposed on film projections superimposed on jazz music by the famous Canadian jazz musician, Oscar Peterson. One can see that after watching this video and all other Norman McLaren videos, not only is Junior Boys' Begone Dull Care inspired by McLaren, but  the entirety of Junior Boys music is as well. The animation is extraordinary. It melds together the obejctive and subjective into a vivid interpretation that can only be described as contemporary abstractionism. You see your feelings, you feel your sights.  You are pulled back into that state of blurred fluidity. It is no wonder that Junior Boys paid tribute to Norman McLaren, who in a way represent a modern-day interpretation of Color-Music.
—
Dona Nham
, February 16, 2009
6 Comments
Comments: